Computational Chemistry: Final Presentations
I am so very proud of my Computational Chemistry (CH4560-CH5560) students who presented their original research projects yesterday! They learned so much during the Semester and they did so well during their presentations! They were competent, professional, engaging, yet humble and even funny! It was a wonderful afternoon of science!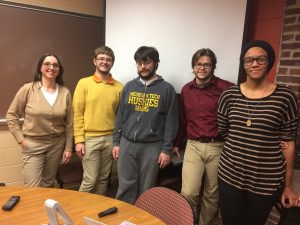 From left to right: Tyler Leverton (Chemistry MS – Environmental Chemistry project), Brian Burtka (Chemistry BS – Surface Science project), Travis Wigstrom (Chemical Engineering BS – Medicinal Chemistry project), Mikhail Trought (Chemistry PhD – Surface Functionalization project).
THANK YOU FOR SUCH A WONDERFUL SEMESTER!