Surface Chemistry at Michigan Tech
Surface science provides the foundation for understanding chemical mechanisms and physical transformations on surfaces and interfaces in complex environments. We aim to uncover the fundamental properties governing reactions on catalytic surfaces for understanding environmental and energetic processes.
Research
Our strategy includes designing metal oxide structures using bottom-up surface chemical approaches to measuring reactions at interfaces from the gas phase to the condensed phase.
Instruments
Multiple surface analytical techniques are needed to fully understand interfacial chemical reactions, explore how we answer important questions.
Outreach
Our group attends select conferences per year and is involved in middle/high school STEM programs.
Our interdisciplinary team includes students from various disciplines including: chemistry, physics, materials science, and chemical engineering. Every student brings new creativity to our research projects in the field of surface chemistry and interface science.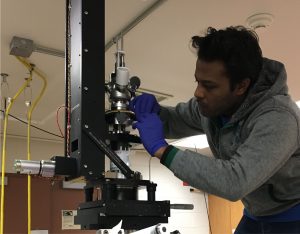 Student Awards & Recognition
April 2021
Mikhail Trought successfully delivers her dissertation! Congratulations!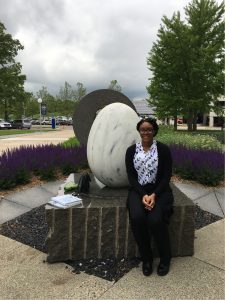 National Meetings
April 2021
Chathura, Mikhail, and Dr. Perrine give presentations at the Materials Research Society meeting.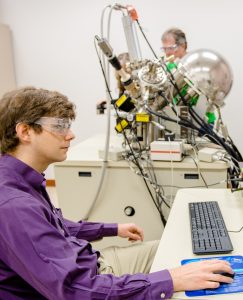 We are looking for Student Researchers!
Spring 2021: Now Accepting Applications
We are looking for creative, motivated, and hardworking students to join our efforts on iron interface chemistry utilizing our surface analysis instrument.
Get in Touch
Email us
Kathryn A. Perrine
Chemical Sciences and Engineering Building
Michigan Technological University
1400 Townsend Dr, Houghton, MI